We are happy to announce that the Cookmate action is available on your Google assistant!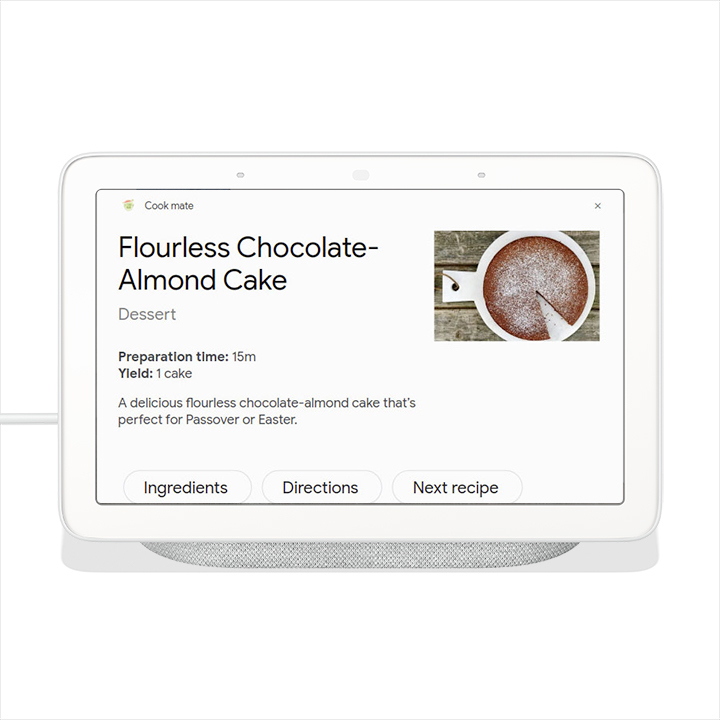 Open your favorite recipes with your Google assistant!
Follow these steps to use the Cookmate action:
You need a Cookmate Online account. You can register using this link: https://www.cookmate.online/accounts/register/
Just say "Hey Google, Talk to Cook mate"
Google will send you a link on your Google Home app. It will allow to link your Google account with your Cookmate account. You may also find the "Link" button on this page: https://assistant.google.com/services/invoke/uid/00000026957bafd5/alm/CgRnAOazEgIQAQ==?hl=en
Click on the link button and log in to Cookmate
Now you will be able to view your recipes from your private cookbook with your Google assistant.
Let us know if you have any issue or feedback!
If you have some time, you can help us to translate the Cookmate action in new languages here : https://mycookbook.oneskyapp.com/collaboration/project/377181
Commands you can use :
Launch Cookmate skill :

Hey Google, Talk to Cook Mate : Your assistant launches the action and asks you what do you want to cook ? You can answer : I want to cook a chocolate cake or just answer a chocolate cake

Find a recipe in your private cookbook :

Hey Google, Open a chocolate cake : Google finds a recipe and asks you if you want to read ingredients, read directions, or get the next recipe
Hey Google, Search for a chocolate cake
Hey Google, Find a chocolate cake

Read ingredients of the last recipe :

Hey Google, Read ingredients
Hey Google, Show ingredients

Read directions : Google reads the first step of your recipe

Hey Google, Read instructions
Hey Google, Read the steps

Read the next step

Hey Google, Next step
Hey Google, Next direction

Read the previous step:

Hey Google, Previous step
Hey Google, Read the previous step

Get the next recipe of your search results

Hey Google, Get the next recipe
Hey Google, Show the next recipe

List your recipes on your Google Nest Hub

Hey Google, List my recipes
Hey Google, List chicken recipes
Launch Cookmate skill :

Hey Google, Mit Cookmate sprechen : Your assistant launches the action and asks you what do you want to cook ? You can answer : Ich möchte Ich möchte einen Schokoladenkuchen kochen or just answer Schokoladenkuchen

Find a recipe in your private cookbook :

Hey Google, Öffne einen Schokoladenkuchen : Google finds a recipe and asks you if you want to read ingredients, read directions, or get the next recipe
Hey Google, Suche Schokoladenkuchen
Hey Google, Finde einen Schokoladenkuchen

Read ingredients of the last recipe :

Hey Google, lies die Zutaten
Hey Google, Zutaten

Read directions : Google reads the first step of your recipe

Hey Google, Lies die Zubereitung
Hey Google, Schritte

Read the next step

Hey Google, Nächster Schritt

Read the previous step:

Hey Google, Voriger Schritt

Get the next recipe of your search results

Hey Google, Suche das nächste Rezept
Hey Google, Nächstes Rezept

List your recipes on your Google Nest Hub

Hey Google, Zeig mir meine Rezepte
Hey Google, Torte rezepte auflisten
Démarrer l'action Mon ami cuisinier :

OK Google, Parler avec Mon ami cuisinier : Google lance l'action Cookmate et vous demande ce que vous souhaitez cuisiner ? Vous pouvez répondre : Je souhaite cuisiner un gâteau au chocolat ou juste la recette du gâteau au chocolat

Trouver une recette dans votre carnet privé :

OK Google, Trouve un 

gâteau au yaourt

 : Google cherche une recette et vous demande si vous souhaitez lire les ingrédients, lire les instructions, ou rechercher la recette suivante
OK Google, Trouve la recette du 

poulet rôti

OK Google, Ouvre la recette du 

moelleux au chocolat

OK Google, Cherche 

gâteau au chocolat

Lire les ingrédients de la dernière recette :

OK Google, Affiche les ingrédients
OK Google, Montre moi les ingrédients

Lire les instructions : Google lit la 1ère étape de votre recette

OK Google, Lire les instructions
OK Google, Voir les étapes

Lire l'étape suivante :

OK Google, étape suivante
OK Google, instruction suivante

Lire l'étape précédente :

OK Google, Lire l'étape précédente
OK Google, Instruction précédente

Obtenir la recette suivante de votre dernière recherche

OK Google, Afficher la recette suivante
OK Google, Chercher la recette suivante

List your recipes on your Google Nest Hub

Hey Google, Liste mes recettes
Hey Google, Lister les recettes au poulet
Launch Cookmate skill :

Ok Google, Parla con Cookmate : Your assistant launches the action and asks you what do you want to cook ? You can answer : Voglio cucinare una torta al cioccolato or just answer una torta al cioccolato

Find a recipe in your private cookbook :

Ok Google, Apri una torta al cioccolato : Google finds a recipe and asks you if you want to read ingredients, read directions, or get the next recipe
Ok Google, Cerca una torta al cioccolato
Ok Google, Trova una torta al cioccolato

Read ingredients of the last recipe :

Ok Google, Leggi gli ingredienti
Ok Google, Mostra gli ingredienti

Read directions : Google reads the first step of your recipe

Ok Google, Leggi le istruzioni
Ok Google, Leggi i passaggi

Read the next step

Ok Google, Prossimo passaggio
Ok Google, Prossima istruzione

Read the previous step:

Ok Google, Passaggio precedente
Ok Google, Leggi il passaggio precedente

Get the next recipe of your search results

Ok Google, Mostyra la ricetta successiva
Ok Google, Prossima ricetta

List your recipes on your Google Nest Hub

Ok Google, Elenca le mie ricette
Ok Google, Elenca le ricette di pollo
Launch Cookmate skill :

Hey Google, Praat met Cook mate : Your assistant launches the action and asks you what do you want to cook ? You can answer :  Ik wil een chocoladetaart bakken or just answer een chocoladetaart

Find a recipe in your private cookbook :

Hey Google, Open een chocoladetaart : Google finds a recipe and asks you if you want to read ingredients, read directions, or get the next recipe
Hey Google, Zoek naar een chocoladetaart
Hey Google, Toon een chocoladetaart

Read ingredients of the last recipe :

Hey Google, Zie ingrediënten
Hey Google, Toon ingrediënten

Read directions : Google reads the first step of your recipe

Hey Google, Lees de stappen
Hey Google, Aanwijzingen

Read the next step

Hey Google, Volgende stap
Hey Google, Volgende instructie

Read the previous step:

Hey Google, Vorige stap
Hey Google, Vorige instructie

Get the next recipe of your search results

Hey Google, Toon het volgende recept
Hey Google, Volgende recept

List your recipes on your Google Nest Hub

Hey Google, Toon mijn recepten
Hey Google, Toon rundvlees recepten
---
If you have any issue to link your Google account with your Cookmate account, please check your Google settings on this page : https://myactivity.google.com/activitycontrols
Enable "Web & App Activity", and check the option "Include Chrome history and activity from sites, apps, and devices that use Google services"