You can synchronize your devices with Cookmate Online. First you have to register on the Cookmate website : https://www.cookmate.online. Once your account is activated, you can link your app with your online account.
The basic free account of Cookmate Online has some limitations: https://www.cookmate.online/pro/. If your number of recipes exceeds the limits, synchronization won't work any more. You will have to upgrade to a Premium account.
Open the menu of the Android application and click on "Settings"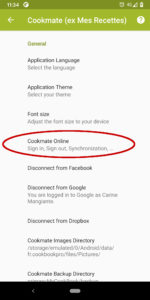 Click on "Cookmate Online"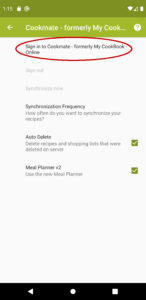 Sign in to Cookmate Online
Put your username and your password. End click on "Log in"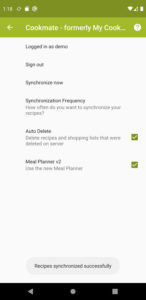 Then you should be redirected to the app (in the synchronization section) and the first line should be replaced with "Logged in as yourusername"
If your app if properly linked to your online account, the synchronization should start
You will see the synchronization status of your recipes in the list, on the left of your pictures.
Synchronized